It doesn't take a rocket scientist to realize marketing in the 21st-Century is nothing like it was at the dawn of modern technology. And although it may seem like real estate marketing requires a scientific degree of some sort, it's not as daunting as it sounds. There is, however, a particular approach recommended by the top real estate agents in the country. Those who've followed these strategies have seen exceptional results.
Regardless of industry, there is no one-size-fits-all solution for marketing. Even for companies in the same industry, every business attracts a particular buyer persona, with specific likes, shared perceptions, and other unique characteristics. The purpose of a sound marketing strategy is to uncover the techniques that will help your business develop a game plan that yields the highest results.
The Challenge
Some of the marketing challenges that real estate agents and property managers face are universal. Most professionals struggle with questions such as, "How do I stand out in the crowd?" and "How do I go about attracting new clients?" No one would argue the challenge is clear. However, since the market has evolved, many traditional responses to these questions are no longer useful.
Does any of these questions sound familiar? Does not having answers hinder your ability to reach your goals this year?
Should I focus on my listings or myself as an agent?
How do I stand out from the crowd?
What types of marketing strategies are most useful for real estate agents?
How important is tracking my marketing efforts?
Would it be worth my time to publish an informative blog for my local community?
The Goal
As a real estate agent, your primary goal likely involves focusing as much time and energy on closing deals as possible. The purpose of this post is not to bog you down with a laundry list of do's and don'ts. My goal is to give you a few basic solutions to get your creative juices flowing and help you recognize where you may benefit from the expertise of someone who specializes in digital marketing.
We all have our idiosyncrasies and particular ways of handling small, mundane daily tasks. Many of the marketing techniques I share below involve (a) building a routine that will help you manage elements that need ongoing, hands-on attention and (b) outlining a few automation opportunities. This is one of the reasons we all love technology, of course. It can help automate our lives and make our efforts more efficient and effective.
If you are like most real estate agents, you spend about 90% of your time prospecting. Using automation can help you re-claim some of your time, time you can reinvest into another two or three showings per weekend (when most potential homebuyers are looking).
The Solution in Five Steps
Just like almost every other aspect of the real estate and property management industry, the most efficient solution involves a series of steps. The five steps outlined below will help you address some of the most pressing concerns discussed above.
"Should I market myself as an agent or focus on my listings?"
This is a common challenge for real estate agents. Instead of stressing over the potential backlash of advertising your services in places designed for buyers, you should build and manage a website. As an asset, your website should leverage your services along with the testimonials of satisfied clients. A professionally designed and responsive website allows you to showcase your skill set and your listings. Just be sure that all of your listings are linked to your site from every listing site you use. (Learn more about the value of a marketing-driven website.)
"How do I stand out from the crowd?"
While it may seem too elementary, and even a little old-fashioned, building relationships is the number one way to separate yourself from the crowd. Networking will never go out of style. We suggest that you always keep your eyes open, for anyone related to your business, prospective buyer, builder, lender, or another real estate professional. After you exchange information, get your new contact's permission to maintain the relationship via email. Follow up within two weeks and perhaps every three weeks after that. This process builds trust and keeps your name in front of the. This way, whenever a need for your services arises, they'll think of you first. (Learn more about the value of building business relationships.)
"What types of marketing strategies are most useful for real estate agents?"
As a marker, I understand how overwhelming digital marketing can be. From SEO, social media, and networking, the choices to promote and advertise are endless. To stay competitive, we suggest for you to use a holistic marketing program, run by an agency you trust. In today's economy, smart business owners want a sound return on their investment. So it is essential to use a marketing firm that will test various outlets and strategies and explain what tactics are effective. You will get better results with a custom-tailored strategy. (Learn more about the benefits of working with an agency.)
"How important is tracking my marketing efforts?"
Tracking the impact of your marketing efforts is vital to understanding which strategies and channels are working. Marketing teams can help you run campaigns with precision and use your budget most effectively. I suggest you find a marketing firm that can offer services such as tailored landing pages, web development, and ongoing marketing support.
"Would it be worth my time to publish an informative blog for my local community?"
People love free stuff. Regardless of what it is, as long as it adds some value, it will be well received. An informative blog could feature community events such as festivals, local small business grand openings, or perhaps a "Q & A" page for potential home buyers. By setting up a blog and linking it to social media, anything you post is then easily sharable, and it becomes another outlet to establish yourself as someone who cares about the community, you're able to build trust and relationships all at the same time. To learn more about the value of online content, download our free eBook below.
About Studio Hyperset
Studio Hyperset builds bridges that connect clients with solutions. We understand that your properties are an extension of your sales strategy, personality, real estate and property management service offerings. Our tailored and scalable marketing solutions can be crafted to meet your immediate business development needs. Most importantly, we can help you ensure the budget you invest is used wisely and generates the highest ROI possible.
Download the eBook
Set Your Words on Fire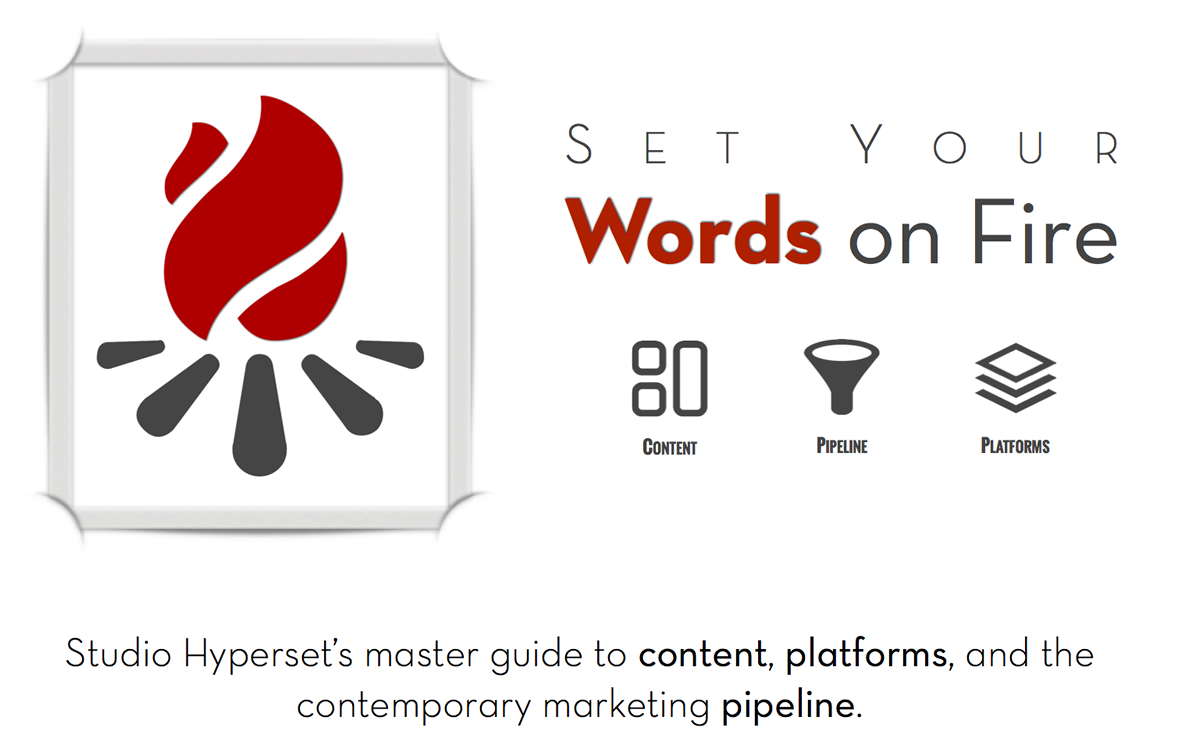 Studio Hyperset's master guide to content, platforms, and the contemporary marketing pipeline.